Frequently Asked Questions
Hopefully I've covered all of your questions here. If not, please contact me.
First, some general answers for people who may have landed on this page looking for help:
More specific questions about my birding guide services:
What services do you offer?
I offer birding guide services in SE Arizona, by the half day, full day, or multiple days.
I also lead some tours and field trips, and offer consulting services for birding in SE Arizona.
Please see my Services section for more details.
Are you flexible?
Yes, very!
Just contact me and we can work out what works best for you.
The main thing to remember is that it's YOUR day, so we'll do things in a way that suits you best.
Where are you based?
I live in prime birding territory in Rio Rico, Santa Cruz County, which is along I-19 between Tubac and Nogales, about an hour south of Tucson.
What area do you cover?
The area I cover as a birding guide is pretty much the whole of SE Arizona, which is all around Tucson, a bit to the north, and almost everything to the south and southeast.
My main areas are in Santa Cruz County (Tubac, Rio Rico, Nogales, Patagonia, Sonoita), southeastern Pima County (Tucson, Green Valley, Sahuarita, Arivaca), and western Cochise County (Sierra Vista, Hereford).
I do not guide in the Phoenix area, or further north,
While I enjoy visiting the Chiricahua Mountains (Portal) in extreme southeastern Arizona, it's too far for me to guide by the day.
So you will need to find alternative guides for the latter two area.
Is it for me? From beginners to target birders
As a professional bird watching guide in southeastern Arizona, I aim to be the right choice for ALL birders, regardless of your age, race, gender, or nationality. Over the years I've had the enormous pleasure of birding with delightful people from around the world, and ages from a nine-month-old baby to a sprightly young gentleman of 93! I will strive to make your day fun and memorable, whoever you are.
Complete beginners
Intermediate birders
Expert birders
Local birders
Out-of-state birders
Overseas birders
Individuals
Couples
Small groups
Large groups
I aim to make your day productive as well as fun, whatever you want to do. Perfect for birders who want to:
See a specific target species, eg: Elegant Trogon
See a list of target species, time permitting
Have a great day of birding in general, with no specific goals
Combine birding with beautiful backdrops and hikes
Improve your knowledge of a particular habitat, eg: desert, grassland
Improve your ID prowess with certain bird groups, eg: sparrows, flycatchers
Experience SE Arizona's great birding spectacles, eg: summer hummingbirds, winter cranes, raptors
Explore new birding sites in Southeast Arizona
Combine birding with other wildlife interests, eg: butterflies, dragonflies, reptiles, mammals
Undertake specific wildlife photography projects or enjoy casual birding with cameras
How much does it cost? Are there hidden extras?
For a full breakdown of my current prices, please see my Prices page. I want you to be fully confident about how much you are paying, and what for.
There are potentially three fees payable to me when you hire me as your birding guide in Southeast Arizona:
Guiding Fee – this fee is my wages, and also covers business expenses, permits, etc.
Meeting Point Fee – only applicable if we meet outside of my immediate area
Vehicle Fee – only applicable if we take my car.
You will also be responsible for entrance fees, where required, including those for your guide. I do have some local passes, and you may have passes that cover some fee areas.
Some sites ask for donations, and I encourage those if we make use of their facilities.
Tipping your guide is not necessarily expected, but is very welcome and greatly appreciated!
How do I pay?
Payments are accepted in US Dollars $ only, by the following methods:
Cash
US check
Zelle
Venmo
Money order
Wire transfer
I can take PayPal, or credit card payments (via PayPal) for an additional fee of 5%. So, for example, a $100 deposit payment becomes $105, and a $300 balance payment becomes $315, and so forth.
Deposit? Refunds? Cancelation policy?
A $100 deposit per day is required at the time of booking to secure your reservation. For example, if you book me for three days, I require a $300 deposit.
The balance is payable at the conclusion of your tour.
If you need to cancel:
Deposits will be returned, minus a 10% admin fee, if the cancellation is more than 30 days before the first booked date.
If the cancellation is 7-30 days before the first booked date, you will receive a refund of 50% of your deposit.
Deposits can not be returned if the cancellation is within 7 days of the first booked date.
Your car or mine?
That's entirely up to you. Please consider the following points before you decide:
I charge a Vehicle Fee per mile to use my car. See the Prices page for the current rate. It's always lower than the government/IRS per mile rate.
If we use my car (medium 4×4 SUV, 3 passengers is comfortable, 4 passengers max), some dirt roads are out of bounds, even for a relatively high clearance 4×4. However, I will go to most, if not all the well-known birding sites in my vehicle, given suitable conditions (please bear monsoon season in mind) and the limitations of my vehicle.
If you provide the vehicle, please note that while most of Arizona's birding sites are perfectly accessible in any car, even ones along dirt roads, a few locations absolutely require high clearance. Four-wheel drive is preferable, especially in the monsoon or winter rains, but in practice is rarely necessary. I will advise you as best I can, but I take no responsibility for any damage done to your vehicle by attempting to drive on unsuitable roads or in unsuitable conditions for your vehicle. If you would like me to drive your vehicle and can name me on your insurance in advance, I will be glad to do so.
My vehicle is equipped with a comprehensive first aid kit. Please advise me in advance of any medical conditions or special requirements you may have.
My vehicle is regularly maintained and equipped with a new spare tire, heavy duty jack, tire pump, battery charger, jumper cables, basic tools, extra water, etc. I also have AAA breakdown and emergency coverage.
Here's my Hyundai Santa Fe SUV out in the field.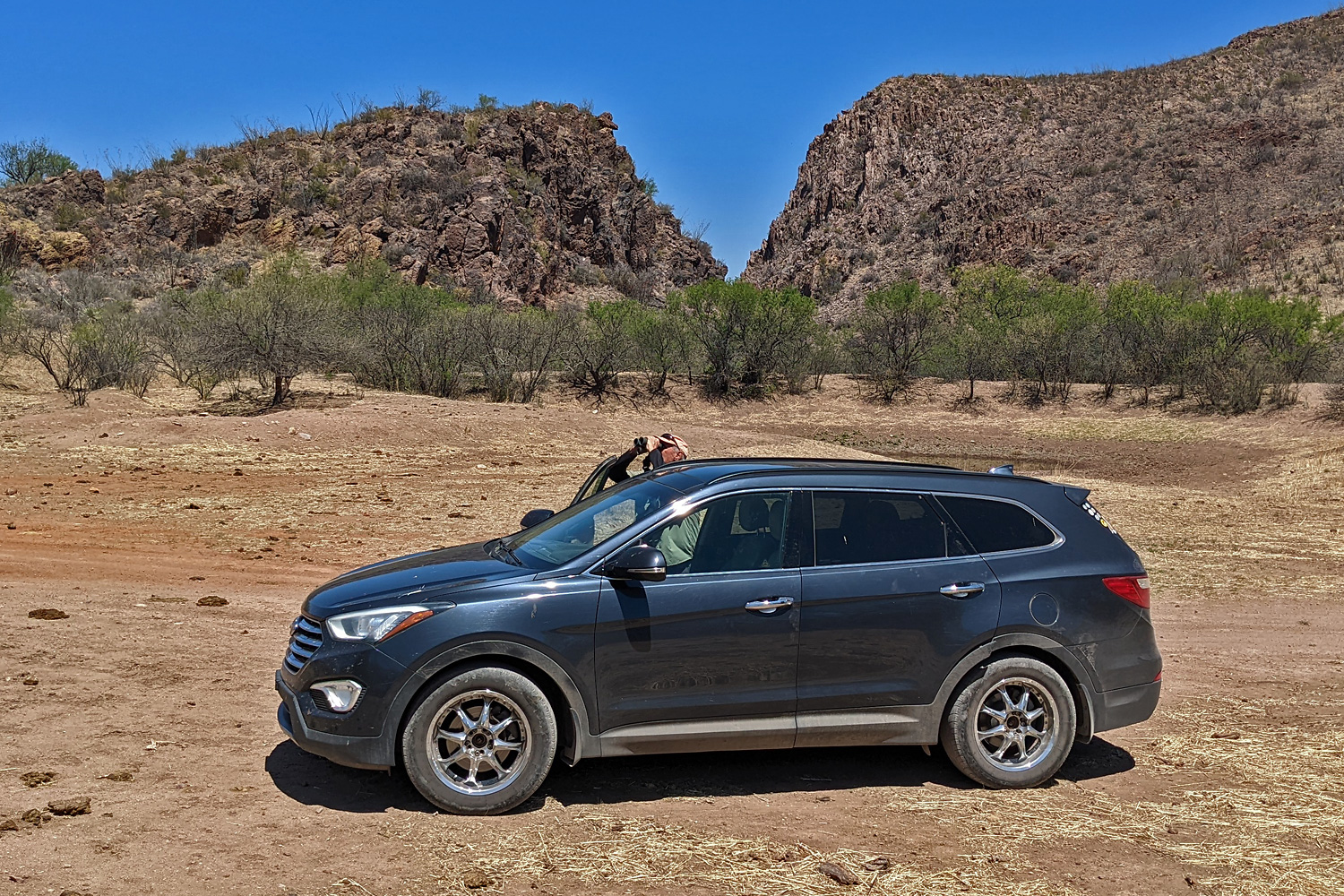 Meeting time and place?
The meeting time and place is entirely up to you, although it will somewhat be determined by where you are staying, and where we are going. I will gladly advise when we have determined these variables.
I have a number of regular meeting places to suggest, that are all safe places to leave a car, and most are convenient for restrooms, coffee, etc.
I always advise an early start, if possible, especially during the hotter months (April-September). However, it is not essential and we can usually find great birds at any time of day.
Here's a useful website to find out sunrise and sunset times, set to Tucson.
Our start time may also depend on whether you are staying somewhere that offers breakfast, and if you'd like to take advantage of that, what time it starts (or finishes, if you want to bird before breakfast).
There are many variables, but the main thing to remember is that it's YOUR day, so whatever works best for you!
Breakfast? Lunch?
You are welcome to do whatever you want in regards to breakfast, and I'll happily work around it. Whether you want to skip breakfast, have breakfast before we meet, have breakfast together when we meet, or bird early and go for breakfast after – I've done them all, and they're all fine with me.
There are four options for lunch:
Bring your own packed lunch
Grab a sandwich/salad/whatever when we pass a grocery store/gas station
In and out of a fast food place or food truck
Take some time out to sit in a restaurant
We are lucky in SE Arizona to have many excellent restaurants, as well as authentic food trucks, handy convenience stores, and truck stops. As you'd expect so close to the border, many of the restaurants are Mexican, serving Sonoran Mexican food, which is generally very mild and absolutely delicious! If you don't like Mexican food, don't worry, we have a mix of cuisines to suit everyone.
Some of our birding sites are remote, so restaurants won't be an option in some cases.
My favorite option is the one YOU want. My second favorite option is to bring a packed lunch, or grab something as we go, as it leaves us more flexible to accommodate unexpected or interesting birding, and more remote lunch locations. But don't let me sway you – whatever works best for you!
Drinks and snacks?
This has changed since Covid.
It now seems most sensible for everyone to bring their own drinks and snacks.
There are plenty of gas stations and stores to buy drinks and snacks, but it's a good idea to plan ahead. If we are in my car, I always have a couple of gallons of filtered drinking water for refills/emergencies, as well as a cooler bag and ice packs to keep things reasonably cool.
I highly encourage the use of electrolyte drinks, eg: Gatorade, etc. This is especially so during the spring/summer, but it's so dry here that really any time, it's good practice. I generally recommend drinking about twice as much as you think you need to!
What do I need to bring?
What to Bring in Spring/Summer
Cool, lightweight clothing: shorts and t-shirts, by all means, but some long pants and long sleeved shirts for cooler times and insect bite/sunburn prevention
I prefer and recommend long pants, but people do bird successfully here in shorts. Be careful in the desert!
Optional waterproof clothing, if visiting during the monsoon season (July/August). A light jacket or poncho will suffice
A light jacket. It's not not red hot all summer, just most of it! It does cool off at night and can be a little chilly early morning
Lightweight walking shoes or sneakers. Optional waterproof/rubber boots during monsoon, but not required. I don't recommend open-toed sandals in the desert, but you just can't tell some people!
Insect repellent, and bite/sting lotion. We're lucky, it's never that bad in SE AZ. Mostly July-Nov, mostly near water, mostly dawn and dusk
What to Bring in Winter
Warm hat, gloves, warm coat
Optional waterproof clothing – it doesn't rain often, but it does sometimes
Lightweight walking shoes or sneakers. Optional waterproof/rubber boots, but not required
Still bring some lightweight clothing, for those inevitable sunny days in the lowlands and desert
What to Bring All Year
Sunscreen!
Wide-brimmed hat!
Water/drink bottle and lots of refills. I recommend electrolyte drinks, eg: Gatorade, especially in spring/summer
Snacks
Sunglasses
Lip balm
Binoculars. I do have a couple of spare pairs, but yours are probably better
Optional: you're welcome to bring your spotting scope, but I do have a good one for our use. It's a new (2023) Kowa TSN 88A spotting scope on a Monfrotto tripod. Sweet.
Optional: bring your camera, absolutely! I'll have mine, and I'll share my photos, regardless of whether you take photos or not
Spare batteries and SD cards for the camera. Don't forget! I have spares that might fit…
US electrical adapter, if bringing equipment from overseas
US Dollars, credit/debit cards
Passport (preferred) or Arizona-recognized ID. We will likely pass through Border Patrol checkpoints, and while they almost never ask…
Emergency contacts, medical and allergy information, medications and prescriptions
Health insurance, travel insurance
A positive attitude and a good sense of humor! 😀
What's our finishing time? What about extra hours?
This is my full-time job, so I have to be fair to both you and myself, and charge appropriately.
A half day is up to five hours, from the time we meet
A full day is up to ten hours, from the time we meet
I'm not very strict about charging for extra time, so if we go a bit over, never mind. When it's an hour or more, however, I do have to charge
I'm always very flexible, so you choose however many hours we are out birding, and I'll charge fairly and appropriately
See the Prices page for the current hourly rate
In the case of a full day plus night birding, those two charges will be the total cost and I don't charge extra hours
How far do we hike? Who sets the pace and tone?
It's YOUR day, so you set the tone and pace, and I'll take it from there.
Everyone is different, and I'm experienced enough to be able to pivot to anyone's situation. Many of my clients are older or have mobility limitations, which means I'm very experienced in finding suitable itineraries for anyone and everyone, at any time of year.
A handful of species are ruled out for those with limited mobility, being long distances on steep, rocky trails. But it's really not that many, when you investigate all the options.
If you're a keen hiker, I can do that too. Or anything in between.
In Southeast Arizona, I can get most people to most species, I reckon…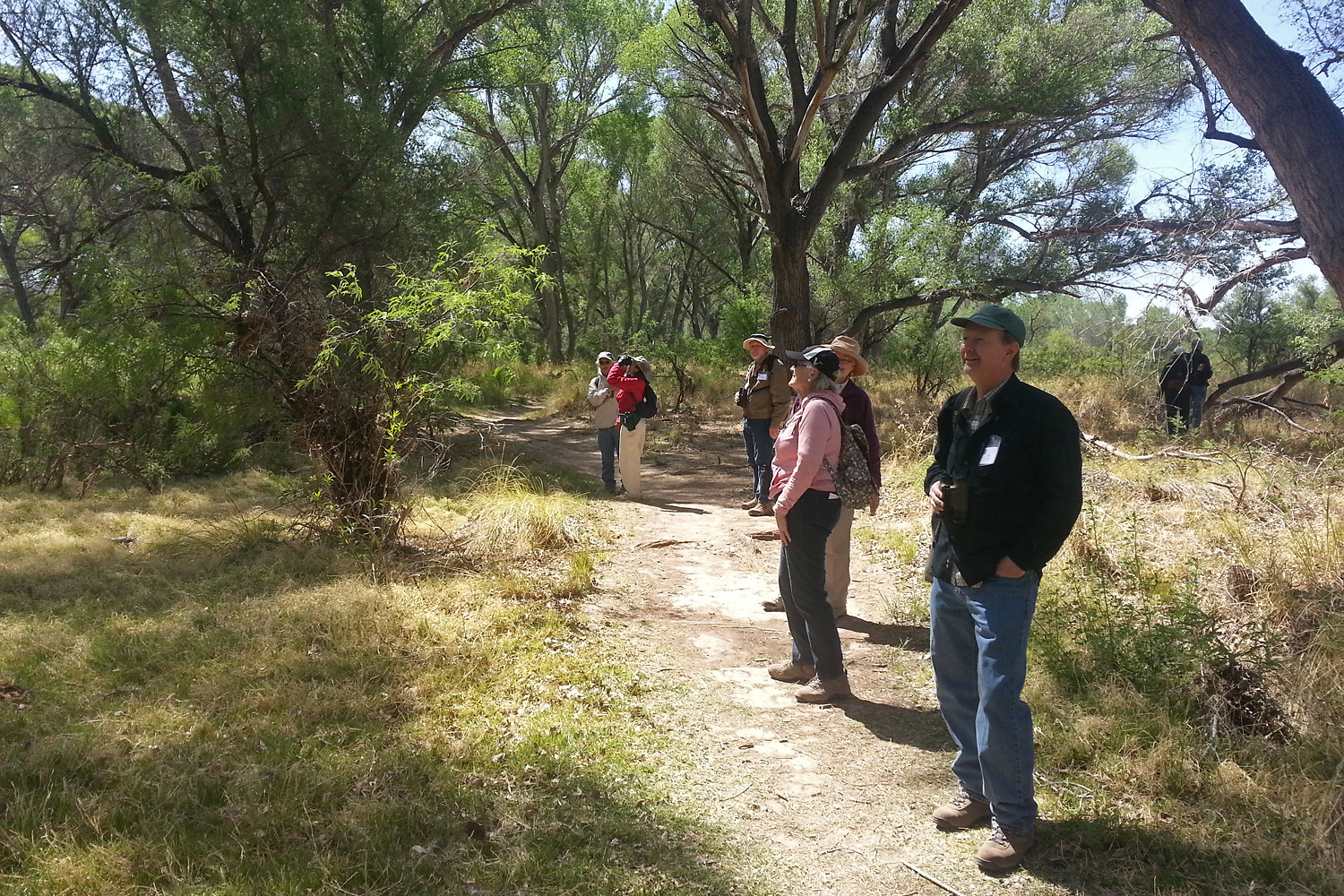 Can I bring my friend / grandma / kids / pet?
Of course! Well, I guess it depends on the pet, but see below…
I do charge slightly more for larger groups, but that's the only difference if you bring more people along. I've guided a baby under a year old, and a more experienced client who was 93, plus every age in between, just about.
I can't say I specialize in it, but to demonstrate my flexibility, I've even "guided" a kid's sixth birthday party, which went surprisingly well (with Jennie's help!)
As for pets, I regularly go birding with my dog, so I know that it can be done very successfully… with the right dog, of course. I have no problem if you want to bring your well-behaved dog, as long as you understand the restrictions that brings to our birding, and the responsibilities of owning a dog outdoors in a hot climate.
I'd probably draw the line at a pet tiger, but I have guided with clients and their pet parrot! Why not? We had a great time! Here we are at the Paton Center…
Photography, mine and yours?
Ethical Birding - owls, playback?